#include <smartptr.h>
#include <vector>
#include <map>
#include <string>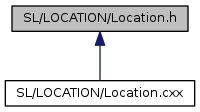 Go to the source code of this file.
Enumerator
LJT_UNDEF 
LJT_NOT_JOINED 
LJT_JOIN 
LJT_ORDER 
Definition at line 35 of file Location.h.
Definition at line 243 of file Location.cxx.
References LJT_JOIN, LJT_ORDER, LJT_UNDEF, parseInfix(), parseLocation(), parseLocationList(), parsePosition(), pos1, pos2, JoinedLocation::push_back(), and string().
Referenced by GLE_update_from_location(), parseLocation(), and parseLocationList().