#include <arb_strarray.h>
#include <aw_base.hxx>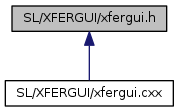 Go to the source code of this file.
initializes ruleset GUI to choose/edit 'awar_selected_fts'. May be bound via multiple callbacks; will always edit the awar of the last triggered callback.
Definition at line 1204 of file xfergui.cxx.
References AW_root::awar(), AWAR_XFERSET_SELECTED, fieldScanner, AW_window::get_root(), initXferAwars(), AW_awar::map(), popup_ruleset_admin_window(), SCAN_ALL_FIELDS, and XFER_refresh_available_fields().
Referenced by AWTI_open_import_window(), create_AWTC_export_window(), and MG_create_merge_species_window().